Square Bagasse Bowl
Compostable

Freezer Safe
Microwave Safe
inquiry now
Description
Introducing the Ecolates Square Bagasse Bowl: Where Style Meets Sustainability
Ecolates, a leading
sugarcane bagasse products manufacturer
, proudly presents our Square Bagasse Bowl – the perfect fusion of elegance and eco-friendliness. Crafted from 100% natural and renewable sugarcane bagasse, this bowl utilizes fibrous material left over after sugarcane juice extraction. By choosing the Sugarcane Bagasse Bio-Degradable Square Bowl, businesses can proudly contribute to sustainability efforts while providing excellent service and eco-conscious tableware.
Environmentally Friendly
Degradation
When commercially composted alongside other compostable items in specific facilities, these products will naturally break down into nutrient-rich organic materials without leaving any visible or toxic residue.

Refrigerator
Safe
Designed to withstand low temperatures, this item is entirely safe for freezer storage.

ASTM D6400
Certification
This item holds certification under ASTM D6400, enabling it to be composted in municipal and industrial aerobic composting facilities.
Microwave Safe
This item is microwave-safe, making it suitable for food service applications without any concerns.

Fast Delivery
Typically dispatched within
1 business day
Sleek and Contemporary
The bowl's modern square design and bright white finish effortlessly complement the decor and theme of any restaurant. Its clean and fresh appearance serves as an ideal backdrop for presenting various types of food. This makes it the perfect choice to showcase exotic dishes like pad Thai or curry in Asian restaurants or market stands.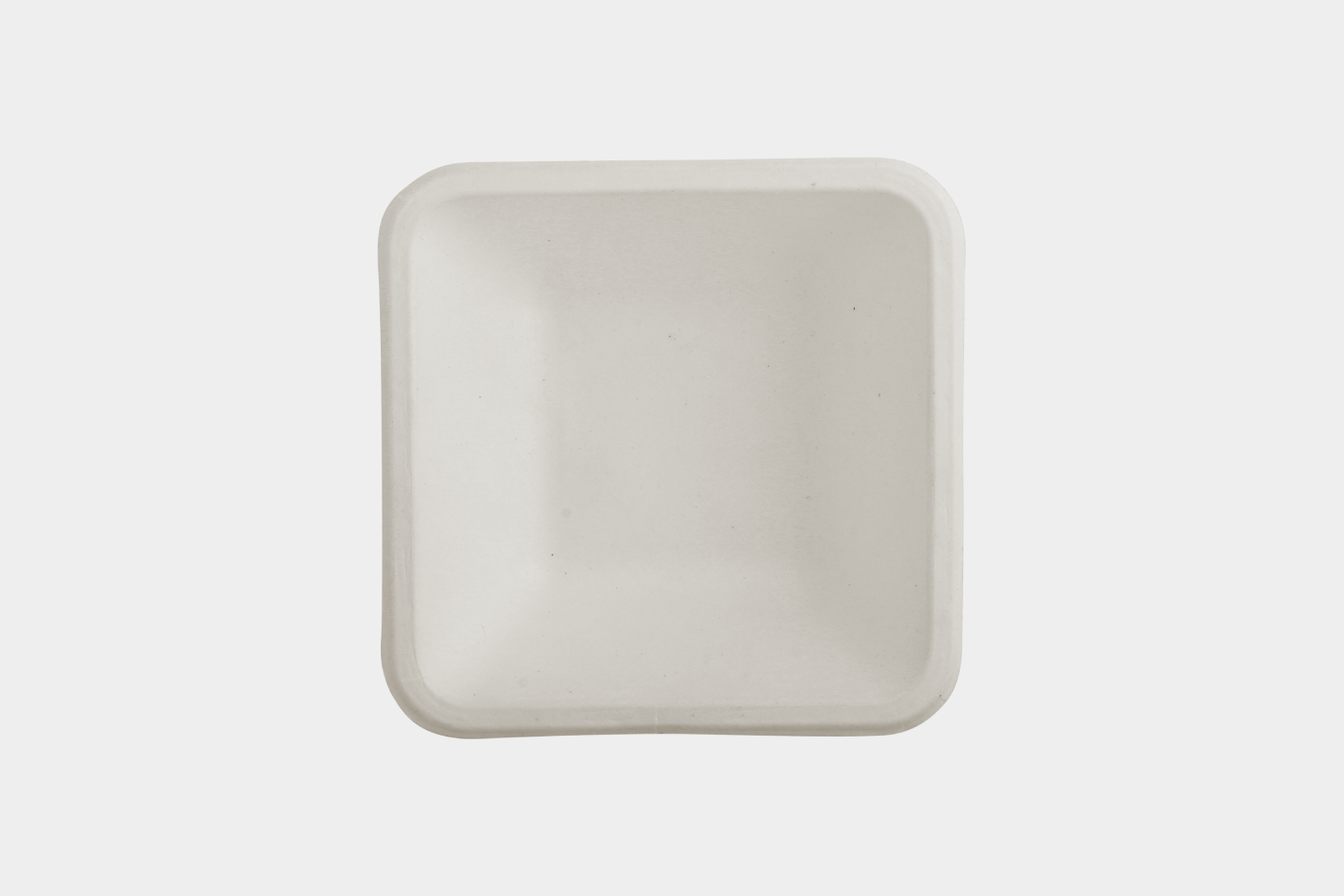 Unique Eco-Conscious Design
Crafted from bagasse, a sugarcane by-product, this product is an ideal choice for environmentally-conscious businesses aiming to reduce their carbon footprint. It has a unique square space to accompany all kinds of dishes. Unlike traditional disposable items that contribute to air pollution when incinerated, this bowl offers a renewable and recyclable alternative.
Strong Durability
Crafted with exceptional strength, EcoChoice dinnerware ensures it remains intact even under moderate pressure, without any risk of breaking or cracking. This bowl not only adds convenience to the serving process but also confidently handles the messiest of menu items!
Environmentally Conscious Choice
Join us in making an eco-conscious choice for your dining needs. Our sugarcane bagasse bowl minimizes energy consumption during production, reducing our environmental impact. Enjoy your meal with a sense of satisfaction, knowing you've made a sustainable choice that helps protect our planet.